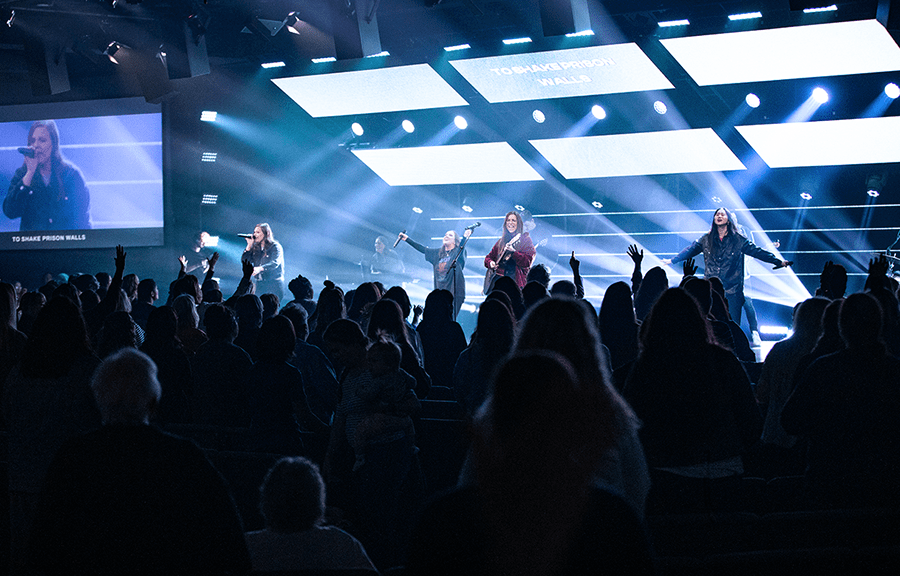 We initially visited the d&b demo room in Asheville, NC to eliminate Soundscape as an
option and when we left, we all realized it was the only option," states Brandon Cecil, Founder and Vice President, Fresh Tech Integrated. "The definition and consistency the Soundscape system delivers is unparalleled by anything else we've experienced."
d&b Soundscape is a spatial and augmented acoustics solution built on legendary d&b loudspeaker systems that delivers transformative live immersive experiences.
Fresh Tech Integrated decided to install the Soundscape system at the Hampton, PA campus of Allison Park Church which is a challenging room to cover with traditional PA designs. "The room is extremely wide and fairly short; we modeled a couple of different options and all of them had a reduced experience toward the outside and back of the room," says Cecil. "The goal from the beginning of the project was to deliver an excellent and consistent experience to every seat and person who attends Allison Park Church. Until we experienced the Soundscape system, we were struggling to find a sound system that could and would deliver the level of consistency that we required. Soundscape delivered so much consistency and fidelity that the average sound pressure level dropped by 10db in the first week!"
Allison Park Church's vision and the leadership of their Experience Director, Brendon Robinson, are what sets this church apart. "Brendon's commitment to excellence and a collaborative workflow help to deliver a powerful worship and message experience unmatched in the area," notes Cecil. "We had the fortune of hearing the d&b 24S and 44S point source loudspeakers in the room before a final design was chosen. The power of the 24S is astonishing and delivered a full range, highly intelligible system in a compact enclosure. The 44S are the MVP of the front fill world. They are highly directional, extremely clear and have enough output to keep up with the late-night youth raves." Both 24S and 44S are part of the d&b xS-Series of dedicated installation loudspeakers, and feature a dipole woofer arrangement for improved directivity control
The 750-seat church with a congregation size of 2,000 has open rafters and clear cable paths enabling an optimal installation experience. "The challenging part of the implementation of this room is how close the room seating is to the front of the stage," adds Cecil. "It's a very shallow stage with seats within 20 feet of unshielded drums, which had presented problems with the previous PA. The church had invested in quality drums, cymbals, tuning and microphones, however, none of this truly shined or was heard with the previous system. Soundscape was able to properly cover every seat providing the front and the back row to receive a consistent experience that lets the quality sources shine."
The Allison Park Church Hampton campus delivers an in-person powerful and contemporary worship experience three times each weekend: one on Saturday and two on Sunday. The band typically consists of 4 vocalists, full drum kit (un-caged), bass, 1-2 electric guitars, keyboard, and tracks.
"Our goal is to achieve a balance of an authentic experience that does not feel over produced and maintains a high level of excellence that engages people of all ages and backgrounds," states Robinson. "Our team will commonly talk about production elements feeling invisible (organic or natural) and this is what Soundscape delivers. Soundscape allows us to immerse our audience and direct their attention in a way that lighting has done for hundreds of years, but audio has never been able to quite accomplish until now. Other immersive or distributed audio systems attempt to do this and up until now has felt artificial and has directed the attention to a loudspeaker instead of the person with the microphone. Soundscape provided an alternative that doesn't make you think about the speakers but creates an environment that draws you in. The true secret sauce of Soundscape really goes past the immersive features though, it's the fidelity, coverage, and audience engagement it delivers."
Robinson said on a technical level Allison Park Church and their auditorium are unique in that the room is designed to feel smaller and more intimate. "On many levels, this is an enormous win for the church since the room has not been conducive to high end audio systems performing well until Soundscape came along. Until Soundscape entered the conversation, no one designed a solution for these types of spaces. The room's trim height has always been a downfall for even coverage with traditional PA solutions, no matter how much money or time we were willing to throw at the problem because you can't change the laws of physics. We jokingly say Soundscape fixed physics because that's honestly how we feel about it. It has provided such outstanding coverage with no dead spots or phase cancellation in a way that our entire team thought was impossible. I think Soundscape has finally delivered a solution that allows smaller or oddly shaped venues an ability to deliver high quality and consistent listening experiences."
The d&b system configuration includes 3 x 5D and 3 x 40D amplifiers, 1 x DS10 network bridge and 1 x DS100 signal engine with En-Scene software module, 7 x 24S-D loudspeakers for mains, 6 x 44S loudspeakers for front fills, 4 x 10S-D extensions, and a sub array consisting of 5 x 21S SUBs.
For more information on d&b Soundscape and d&b loudspeakers, visit
www.dbaudio.com
Article Feature Locations: